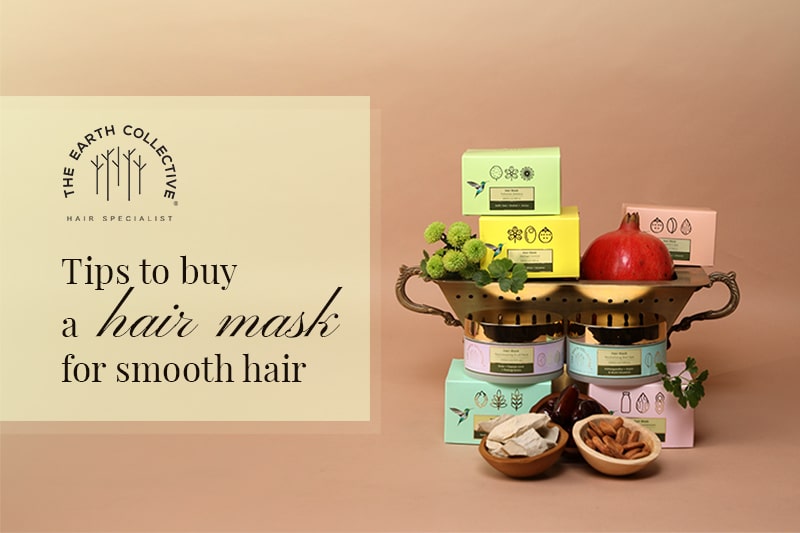 Hair masks are essential for healthy and well-maintained hair. But what is a hair mask and what does it do? Well, your hair often needs extra conditioning. Damage from pollution and heat styling makes your hair prone to breakage. A hair mask is a deep conditioning treatment that repairs your hair. Hair masks deeply nourish, strengthen hair and make it smooth. Specially designed hair masks can also target specific hair concerns. 
To get the best results from your hair mask, you need to know how to choose the right one. 
Here's our guide to choosing the right hair mask for you: 
Dry and damaged hair: If your hair is dry and damaged,

using a nourishing hair mask will give it much-needed hydration due to any treatment or even naturally dry. Use

Damage Control Hair Mask

that is enriched with the goodness of Brahmi, Olive, and Coconut. The hair mask moisturizes, conditions, and nourishes hair by hydrating it.
Oily hair: Many people with oily scalp have a misconception that their hair does not require external hydration. Those with oily hair and scalp can benefit from a hair mask that helps control oil. An

Oil Control Mud Pack

hydrates the hair, without making it look sticky. Kaolin Clay is the hair mask soaks up extra oil to keep the scalp grime-free.  
Are there other types of hair masks? 
There are hair masks for all types of hair. Our wide range of hair masks with varied ingredients make sure that there is a mask for every type of hair. For those looking to give their hair more volume, a Protein Nourishment Hair Mask is an ideal choice to breathe new life into your hair, especially colored hair which really needs that nutritional boost for the color to shine through. Prolonged exposure to pollution can damage your hair cuticles by stripping hair of its natural moisture. It can result in discoloration, dry and brittle strands, split ends, thinning, and frizziness. A Pollution Defence Hair Mask provides optimum protection against pollution. 
How to use a hair mask? 
Apply a generous amount of the hair mask on damp hair before washing it. Massage the strands to ensure that there is optimal coverage of all of your hair. Let the mask sit for at least 30 minutes. Rinse and follow with The Earth Collective shampoo and conditioner. Many people with extremely dry hair can even benefit from steaming their hair with the mask on for a few minutes before washing it off. 
How often should you use a hair mask? 
You should apply your hair mask at least once a week as part of your normal hair care routine. But if you frequently use heat styling products such as curling irons and blow dryers, your hair may need more intense conditioning. Book a one-on-one consultation for hair-related problems and choosing the right hair product for your hair.