A Glimpse Inside Our
State-of-the-Art
Manufacturing Facility
At The Earth Collective, we take immense pride in our manufacturing facility, which serves as the birthplace of our range of hair care products. Join us as we take you on a virtual tour of our world-class manufacturing facility, where precision meets passion.
In-House Production & Expertise
MANUFACTURING EXCELLENCE:
One of the cornerstones of our success is our commitment to in-house manufacturing. From the initial conception of a product idea to its final packaging, every step of the process happens within our facility. This vertical integration allows us to maintain complete control over quality, ensuring that every product that leaves our doors is a testament to our unwavering commitment to excellence.
With over four decades of experience in the industry, our team of experts has honed their skills and perfected their craft. Their dedication to staying ahead of the curve and embracing the latest technologies ensures that our products are always at the forefront of innovation. 
Our facility's four-storey, 28,000 square feet structure in Kolkata stands as a testament to our growth and continuous improvement over the years..
Certifications Speak Louder Than Words:
GMP & ISO 9001:2015
When it comes to quality assurance, certifications speak louder than words. Our manufacturing facility proudly holds certifications in Good Manufacturing Practices (GMP) and International Organization for Standardization (ISO 9001:2015).
These certifications highlight our adherence to strict quality control measures, safety standards, and operational efficiency.
GMP certification assures that our hair care products are consistently produced and controlled according to the highest quality standards. ISO certification further attests to our commitment to maintaining a systematic approach to quality management.
These certifications not only reflect our dedication to producing safe and effective products, but also underline our responsibility towards our customers' well-being.
Fueling Innovation:
Our In-House R&D Team and Lab
Innovation is the driving force behind any successful enterprise. Our commitment to innovation is reflected in our in-house Research and Development (R&D) team and laboratory. This dedicated team of scientists, researchers, and experts works tirelessly to push the boundaries of what's possible in the cosmetic and hair care industry.
Our R&D lab is equipped with cutting-edge technology that allows our team to experiment, formulate, and test new product ideas. This environment fosters creativity and collaboration, ensuring that our product lineup remains fresh, relevant, and exciting for our customers.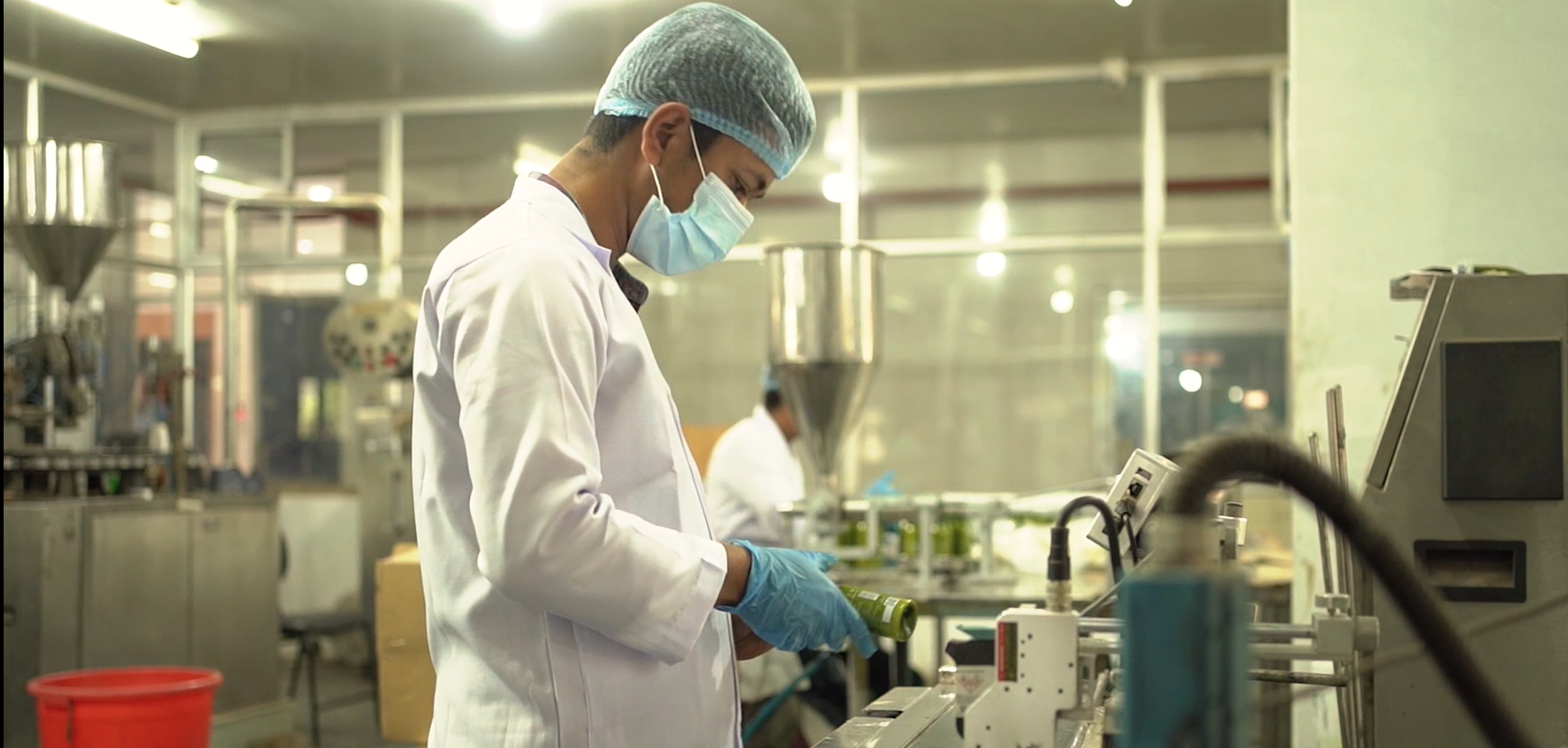 A Seamless Journey: Manufacturing, Packaging, Storage, and Warehousing
From the moment an idea takes shape to the point of delivery, our facility seamlessly guides each hair care product through its lifecycle. The manufacturing process is executed with precision and care, ensuring that the end product lives up to our reputation.
Our packaging experts then step in to create an aesthetic that matches the quality within. Every detail, from labelling to the packaging, is meticulously designed to provide an exceptional experience for our customers.
To ensure timely delivery and optimal storage, our facility boasts advanced warehousing provisions. This guarantees that our hair care products are stored in ideal conditions, ready to be dispatched to our valued clients at a moment's notice.
"Our story is one of passion, persistence, and a pursuit of perfection. Through challenges and triumphs, we remain committed to redefining hair care."
With over four decades of experience courtesy our parent company, Loren Beautifiers Private Limited, we have weathered changes, embraced challenges, and emerged stronger than ever.
Nature provides the inspiration, and science gives us the tools – the fusion of these elements is what makes The Earth Collective's products truly transformative.